I've talked a big game, I've played more concerts than I can remember, and I've made a ton of friends along the way. It's time to put up or shut up. Over the years I've written and accumulated a lot of songs. Like, an honest to God lot of music. I'm not just talking about all of the Rock `n Roll I've written over the years either. I've got countless iPhone demo's taking up more memory on my 5s than I can justify. 
If you're reading this, you've found me.
Music.
It's what I love to do. I've been picking and strumming away between concerts, between workdays, through weekends and even after most of you are sound asleep. It has always been my counter punch to the stress. I've been blessed to have shared the stage many times with close friends who are still living within the proverbial stones throw. Saying we've cut it up a few times would be a wild understatement. Additionally, when you've done it for as long as I have, you truly forget how not to. 
I've had some incredible high points in my music career so far, and a few jarring let downs.  That's the rough road, that's the tread, that's the game.  Despite the bad breaks and life affirming highs, I've somehow kept a mind to keep strumming a guitar. 
Over the past 5 years I've made mention of recording another album but struggled with the critic inside. Songs weren't coming together quite the way I wanted, and by the time I felt good about them I had already moved on to the next. I took the Winter/Summer of 2017 to build a safe space for my music and for my craft. With primarily most of the help coming from my father, and some from close friends, I used what limited knowledge I carried to build a home studio / music room.  It started as cinder block, cement floors with HVAC running across the ceiling and is now a real room complete with acoustic panels, studio equipment and seeping with inspiration.
With that being put out there, I spent most of 2018 contemplating how to tackle this record. 
How does one whittle down over 30 songs to release on a 10 song album? Not only that, how does one take songs written over 10 years ago and refresh them and make them feel alive again? In all of my previous projects as soon as we had enough songs to cut a record... we did. With this stuff it was somehow much more difficult to make that decision. 
I'll tell you what, it's not easy. At least it wasn't for me. 
I kicked around the idea of bringing some friends in on these songs I had been writing/accumulating and we began rehearsing them in the winter of 2017. I think we've got something special here. Welcome The Flood.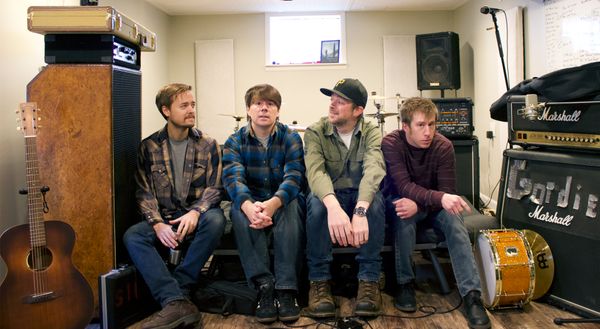 Fred Oakman and The Flood
From Left to Right: Nate Kuhn (Drums), Troy Messerall (Electric and Lap Steel), Fred Oakman (Vocals/Acoustic), Jacob Peters (Bass)
If you know me, you know I don't like to do things half-assed. It has to be all or nothing. This is the reason I couldn't release any music in the last 5 years or so. I felt really good about my 5 song EP "The God Fearing Boy" and didn't want the follow up release to be anything less than what I had already accomplished.
I'm entirely confident now that what we've tapped into is worthy of a true release. The writing, rewriting, and laboring over these songs has been no easy feat but I'm pretty much at the finish line now.  
I've now accumulated enough people on my side to support me with the multitude of moving parts required to put out a good album. 
With this new shiny website I'm here to tell you, it has started and quite a bit of tracking has already occurred. It'll be released this summer. 10 tracks and 5 years in the making. 
I'm really looking forward to sharing this record with everyone. 
xoxoxo 
Fred.