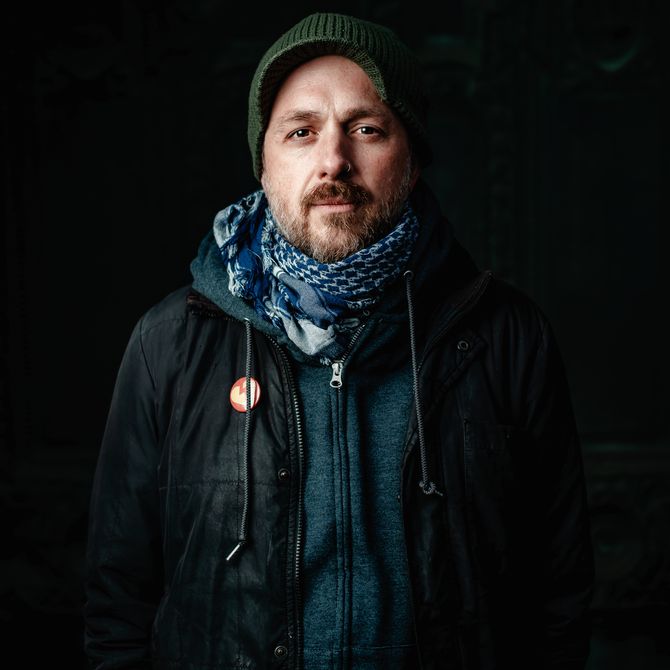 In the past 20 years, Oakman has toured the country belting out punk rock songs, initially with his well received bands Signal Home and The Twirpentines only to later try his hand at a more refined/direct approach to songwriting.
Oakman currently heads off the Pennsylvania Rock Band: One If By Land. When he's not playing rock `n roll with OIBL, Oakman can be heard navigating the landscape of becoming a purposeful singer/songwriter.
While it's not rare to catch a solo performance, Oakman has also been performing live with his backing band The Flood which features members Troy Messerall on Lap Steel / Guitar, Nate Kuhn on Drums and Jacob Peters on Bass.
His most recent collection of songs, titled My Gasoline Heart (10 song full-length album) was released in October of 2019. Prior to that Oakman independently released a 5 song solo EP titled: The God Fearing Boy. Additionally he had released a digital single titled "Come to Grips", a split album featuring the artist Fleets, and an EP of demo tracks.
His song "They Cannot Kill Me" was featured on the soundtrack to acclaimed independent film Prime of Your Life. 
Oakman's band One If By Land released their second album in 2016 titled "Nobody Wants to Leave" and he is currently working with the gentlemen, writing in preparation for another album.
PRESS
"Wonderfully reminiscent of some of Lucero's early work, Oakman's gravelly vocals give nods to alt-country, with his backing band (The Flood) providing pitch-perfect accompaniment. Exquisitely listenable, My Gasoline Heart offers a steady burn that stays with you." - The Erie Reader
"The God Fearing Boy is a five song EP that lives and dies off Oakman's warm, humble voice, and a much appreciated full backing country/folk/indie band. A lyrical theme runs through the entire EP and the tone of each song reflects its point in the overall arc, right down the eerie shaking and pausing on "The Search Party" and the subtle Americana feel on "Led by Fireworks". - Pastepunk.com
BODIES OF WORK INCLUDE
The Twirpentines: Goodnight, Porchlight. (2022 Full Length Album Vinyl Re-Release)(A-F Records)
Fred Oakman / Donny Consla Split EP (2021)(Independently Released)
Fred Oakman: My Gasoline Heart (2019 Full Length) (Independently Released)
One If By Land: Nobody Wants to Leave (Full Length) (Independently Released) 
The Twirpentines: Hollow (7" Single) (Between the Days Records) 
One If By Land: In the Fire of My Youth (Full Length Album) (Independently Released) (Vinyl Release on Between the Days Records) 
One If By Land: Featured on 20 Years of Hell Vol. IV w/ Anti-Flag (A-F Records) (Split 7") 
Fred Oakman: The God Fearing Boy (5 Song EP) (Independently Released) 
Fred Oakman: Come to Grips (Single) (Digital Release) (Independently Released) 
Fred Oakman: Fred Oakman & Fleets Split Record (Independently Released) 
Fred Oakman: Demo EP1 (4 Song Digital Release) (Independently Released) 
Signal Home: A Fragile Constitutional (Full Length Album) (Carbon Copy Media) 
Signal Home: The Mayday EP (Collection of B Sides and re-takes) (Independently Released) 
The Twirpentines: Goodnight, Porchlight. (Full Length Album) (Independently Released) 
The Twirpentines: Leaving Never Far Behind (Full Length Album)(Independently Released) 
The Twirpentines: 7" Record (4 song 7" Vinyl only) (Independently Released) 
The Twirpentines: I'm Stuck (Full Length Cassette Tape Release) (Independently Released)
CURRENTLY PERFORMING WITH: 
Fred Oakman and The Flood
One If By Land
FORMER BANDS INCLUDE:
Signal Home (Carbon Copy Media) 
The Twirpentines (Independent)